VMP 2.3L TVS & GT500 Throttle Body Package for 2003-2004 Cobra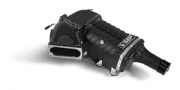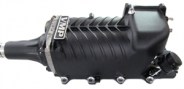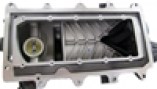 Description
Gen II Cobtra TVS is now shipping! Comes standard with improved cooling, optional EGR spacer available.

Package deal includes:
VMP GEN II TVS Supercharger for 03-04 Cobra
VMP single blade GT500 bolt-pattern mechanical linkage throttle body for 03-04 Cobra
VMP GT500 style single blade throttle body
One pulley of your choice
The VMP GEN II 2.3L TVS Supercharger upgrade is a direct replacement for the factory Eaton M112 Supercharger on the 2003-2004 "Terminator" Mustang Cobra. It was designed from OEM CAD data to fit perfectly and clear the stock hood. It is the first aftermarket supercharger housing made specifically for the Terminator Cobra. It is a one piece housing with a side inlet like the factory supercharger. The one piece design makes for a very rigid housing, allows for a larger rear inlet, decreases the chance of vacuum leaks, and makes installation easier.
The VMP GEN II TVS for 03-04 Cobra is now available with the new elbow design to support use of a GT500 mechanical linkage throttle body. This TB has a larger bolt-pattern and allows for more airflow into the TVS, making the 2.3L blower capable of over 700RWHP (dyno results below)!
With the VMP TVS you get the reliability of an Eaton blower and the performance of the TVS rotorpack design. The Twin-Vortices-Series compressor has proven itself to be highly efficient over a wide operating range of 10-22+psi. It is a high twist symetrical 4-lobe rotor design with excellent adiabatic effiency. TVS technology is used on the 2013 GT500, ZR1 Corvette, and ZL1 Camaro.
VMP 2.3L TVS Supercharger upgrade key features:
Direct replacement for stock supercharger

Gains of 100-350RWHP depending on pulley size & boost level

1 year warranty provided by VMP

Proven Eaton reliability: 100,000 mile service interval

Pre-filled with oil

Intercooler bolts directly to bottom of blower

Side inlet for easy access to fuel rails

 

Side inlet allows use of different throttle body styles

Vacuum line connections and T-MAP in factory locations

 

Large 45MM bypass-valve for cooler operation, improved driveably, and greater fuel efficiency

EGR option available
Pulleys are easily bolted on and off using six allen head bolts
Package Includes:
VMP TVS Blower with stainless steel 6-bolt hub

One interchangeable 6-bolt pulley of your choice

Inlet elbow for GT500 bolt-pattern throttle body

Six M6x14MM bolts for pulley

Four M6x25MM bolts for elbow

Ten M5x16MM intercooler bolts
Installation:
The factory supercharger to lower intake manifold gasket is metal and can be re-used in most cases

The factory IAC gasket may be re-used in most cases

The TB gasket may be re-used in most cases, aftermarket TBs usually include a new gasket

EGR option available
Gen 2 GT500 throttle body and Elbow install like stock.

Instruction supplements:
Intake Manifold Assembly
Lower Intake Assembly
Stock Vacuum Schematic (VMP TVS requires changes)
Boost levels:
| | | |
| --- | --- | --- |
| SC Pulley | Stock Crank | 4lb lower |
| 3.3" | 14psi | 18psi |
| 3.2" | 15psi | 19psi |
| 3.0" | 17psi | 22psi |
| 2.8" | 19psi | stroker or cammed motors only |
| 2.6" | 21psi | stroker or cammed motors only |
|   |   |   |
  The VMP TVS places the SC pulley in the same location as the stock blower.